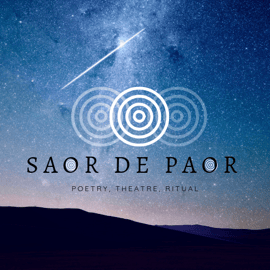 Solo Shows
An Crone Mhuire: Other Voices, 2022: Poetic theatre performed in outdoor laybrinth as a metaphorical journey through the seven layers of self from maiden to mother.
Táim ag Teacht: A bi-lingual spoken word show developed with support from Ealaíon na Gaeltachta performed in 2023 in private and festivals in Clare, Kerry, Kinsale and Carlow.
O béal an Fharraige, Féile na Bealtaine, 2021: Spoken word with movement on Cloghar Beach accompanied by musician Meabh Ní Bheaglaíoch. .
Imbolg: Irish/English solo performance on maternity rights in Ireland incorporating dance and multimedia projection that I wrote and performed while pregnant in December 2017: An Taibhdhearc, National Theatre for Irish-language Arts, Galway and Aonarach Le Chéile/ Going Solo Together Dance Festival, Dingle, Co Kerry, October 2017.
Snámh na Saoirse: Lead actor in Irish-language drama with contemporary dance and singing staged by An Lab, Amharclann Gaeilge, Dingle September 2017 (Four nights sold out) and An Taibhdhearc, Galway December 2017
Na Ceithre hAirde, Solo performance combining poetry, dance and drama: a critical journey around the four corners of an oppressed Ireland. An Lab Amharclann, Dingle. September 2016, July 2017, May 2017
Ascension: Debut solo performance in contemporary group art show set in a derelict Georgian House, Youghal, Co Cork, September 2014.
Ag Damhsa an Dorachadas performance piece of shadow theatre, poetry, dance collaboration with Quebecoi artist Sophie Vatour. The show was part of the John Street exhibition I curated for Féile na Bealtaine in Dingle, May 2016.
Community Arts Projects
Cath Fionn Trå: May 2023: Creative director and choreographer of an immersive performance of a mythological battle co-ordinating the efforts of five dancers, thirty hurlers, six musicians and a story teller. Creating costume, poetry and management of event which was funded by Kerry County Council Local Live Performance Fund and Feile na Bealtaine.
Páistí an Fhiáintais: Children of the Wildern; Writer, Director et al. Writer, Director, Choreographer, Costume, Set Design of Irish-language performance by children aged 8 to 12 i gcomhar le Oidhearacht Corca Dhuibhne in Aras Bhréanainn, Baile an Fhéirtéaraigh, Christmas 2018 and an Díseart, Féile na Bealtaine,
May 2019 Ceremonial Choreography for the gathering of the Four Tribes: September 2019: Moy Hill Farm Gathering Choregraph and Direction of Opening and Closing Ceremony, Moy Hill, Lehinch, Co Clare Winter Woman,
June 2019: Scéalaí and Shaman for Winter Soltsice Closing Ritual at Ballinclough House, Dublin by Trailblazery
Curator and Photographe
r of Casualties of Convenience:
A exhibition of local campaigners that posed nude on the peninusulas beaches to highlight man's vulnerability to plastic pollution. Exhibited for October 2019, Greys Lane, Dingle Food Festival, October 2019, Féile na Bealtaine, May 2017, Green Street Gallery, Dingle and hung from June to July 2017 in An Lab, Irish language theatre. An Mall, Daingean Uí Chúis
Publications/Poetry Films
Ag Damhsa an Dorachadas (Dancing the Darkness): About a woman's return to her wild nature. This poetry film screened at Bloomsday Festival, Dublin and Copenhagen International Poetry Film Festival 2023
Fan Lasmuigh: Words and direction of this film which was screened at Féile na Bealtaine in 2022.
Is Mise Boann; an Irish epic personifying the cow goddess and the sacred river of Meath, commissioned by the Save the Boyne campaign. performed with international singer Peia in concert in Dublin, September 2022.
An teanga is an tír, Le Chéile Journal, June 2022
Adult Workshops (current)
May 2022 Unleashing your Creative Spirit: Glenbeigh Musicians Retreat, Co Kerry,
Poetry as Medicine: Wild Art for Women Retreat, Burren,
Tochailt Focail, Word Dig – With the foclóir as an oracle deck we mine the Irish language for meaning and message – ongoing with www.wildirishretreats.com
The journey Ogham: Workshop on Tree Essenses and Wildcraft: Summer Solstice festival at Ballinclough House, Dublin, The Trailblazery, June 2019
Children and Young Adult Workshops
Drámdraíocht: Magical Theatre (ages 7 – 12) Over two terms children were introduced to elemental themes, improvised acting, contemporary dance, set design and outdoor creativity. At the end of both terms we staged Paistí an Fhiáintais. October 2018 – September 2019:
The Forest Tribe: Immersive dramatic play with 4-7-year-olds and 7 to 10 year olds. Mandalas of found objects with Scoil Lios na nóg, Rathgar, Co Dublin
Creative Youth Tutor with Kerry ETB . May 2020 – April 2021: online delivery: I created a series of creative videos for children between eight and eighteen dramaatic monologue, mockumentaries, creating a shadow theatre, dancing with nature, flower mandalas and making a nature altarhttps://www.kerryetb.ie/creativities/focalann-filiocht-mar-leigheas-ceardlann-beo-le-siobhan-de-paor/
Glór na Gael, August 2019: Contemporary and Drama Dance Workshops with children aged 6 and upwards. Seaweed Identification and Preparation Workshop, Annual workshops with Glór na Gael Saoirse Teaglaigh, Brú na Gráige from 2019 - 2023 An Oireachtas, September 2019: Rince Nua Aimsirthe/ Contemporary Dance le páistí
Wild Irish Retreat In 2017 my partner and I founded a community to create rewilding experiences as Gaeilge in the West Kerry Gaeltacht. I give Irish language, poetry, wild food foraging and plant medicine walks over the weekend.
Training
Youth Theatre Ireland facilitation training, Tralee, February, 2020 January 2014: Gaitey School of Acting course, Granary Theatre, Cork culminating in monologue performance Training workshops with dance choregropher Fergal O'Chonchur and Stephen Batts of Echo Echo Theatre BA in Journalism, DCU, Dublin 2004